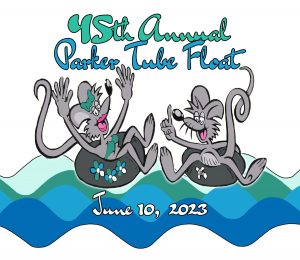 The Parker Tube Float - The biggest Party on the Parker Strip!
#ParkerTubeFloat
The 46th Annual Parker Tube Float will be held on Saturday June 8, 2024. 
Online Pre-Registration will open March 1, 2024 and will close at midnight June 2, 2024.  You will still be able to register the morning of the event at La Paz County Park.
You can register online or by visiting the Parker Regional Chamber of Commerce & Tourism office or at one of the off site locations (Pirate's Den, Whiskey River Steakhouse and Saloon, Sandbar Resort, Castle Rock, River Lodge, Branson's Resort, Echo Lodge, The Bar, The Sand Bar and Spanky's RV & Marine).
The 46th Annual Parker Tube Float registration will be at La Paz County Park from 8 A.M to noon with the float ending at 5 P.M. (NO-WAKE ZONE EXPIRES).  Park at La Paz County Park ($10.00 parking fee) and we will shuttle you to Buckskin Mountain State Park where the starting line is.  The last bus will leave La Paz County Park shortly after registration closes at 12  P.M. Buckskin Mountain State Park will have air compressors available to inflate your floats and get ready to launch.  Ice will also be available for purchase at both La Paz County Park and Buckskin Mountain State Park.  Once you are ready you will enter the beautiful Colorado River you will can enjoy beautiful scenery and will pass a few bars and restaurants as you float down to the finish line at La Paz County Park/Pirate's Den Resort located where you originally parked.
We strongly suggest you pre-register as it is $30.00 per person.  Once pre-registration closes the fee is $40.00 per person if you register the morning of the event.  An additional fee of $30.00 is required if you will be using a motorized vessel to assist your floating group.
Changes for the Parker Tube Float.  We will not allow boats with any IO, Outboard or prop.  Only allowed vessels will be jet boats or personal water crafts ONLY!
Water crafts are not allowed to launch at the registration area or starting line neither at La Paz County Park, Pirate's Den, or Buckskin Mountain State Park. You will either need to launch at the Public Launch Ramp or a park if they offer a launch ramp. You will need to drive your vessel up river to the starting line at Buckskin Mountain State Park.
The first 300 registered will receive a free event tank top.
All pre-registered will be entered into a drawing for fabulous prizes.
Pirate's Den will be hosting the After Float Party with music, drink specials and fun.
**NO REFUNDS or TRANSFERS**
Register for the Parker Annual Tube Float and get important information that you need to know to make your Parker Tube Float an experience to remember, by clicking "Register Now" and "Float Rules" at the links above.
Additional optional items to purchase:
*Not included with registration*

Want to save some time, get on the water faster, stay connected to your group without the added stress of having to tie everyone together and enhance your entire Parker Tube Float Experience? Would you like to own what is quickly becoming an Iconic, Must-Have Parker Strip Accessory? We are partnering with Fluzzle Tube this year to provide you with an expedited start for this years Float by providing you and your group with Pre-Inflated Fluzzle Tubes and accessories all ready to go by the time you get to Buckskin Mountain State Park. To view their full catalog of tubes & accessories to make your float experience even easier, click the link below and get to know Fluzzle Tube today!!!
If you would like to be a vendor at the Parker Tube Float, please contact us or fill out the form below.
Would you like to help us out?  We are looking for volunteers for this year's Parker Tube Float.  There are many different ways you can help with the Parker Tube Float, assist boats, trash clean-up, registration, float coaching, etc.  There will be a volunteer appreciation dinner scheduled after the Parker Float.
We are always looking for sponsors for this event.  Please click the button above for sponsorship options.
Thank you to the Parker community for their support and volunteerism.  The Parker Tube Float would not be possible without the communities' efforts and support.
Thank you to our sponsors: